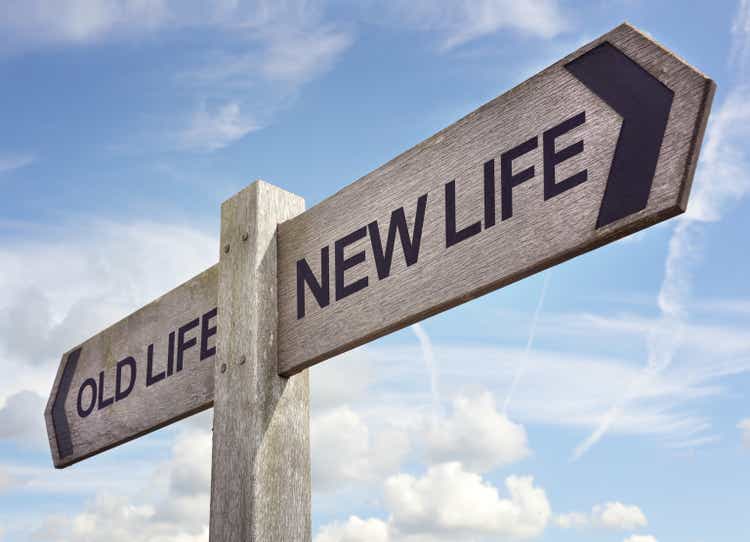 New Life For New Age
We have turned bullish on New Age, Inc. (NASDAQ:NBEV). That is something that we never thought would happen.
Four recent catalysts have caused us to do a complete 180-degree turn and aggressively begin accumulating the stock.
The resignation of former CEO Brent Willis.
The purchase of 500,000 shares by Interim CEO and Chairman Ed Brennan at a price of $1.21/share.
Valuation metrics that have become too cheap to ignore.
The announcement by the company that it has begun a review of strategic alternatives designed to maximize shareholder value.
New Age, Inc., formerly New Age Beverages, is a company that we have followed for many years. The stock was an absolute rocket ship in the days of the CBD-cannabis craze.
As is often the case, investors completely lost their perspective on both the size of the potential size of the CBD-infused beverage market, as well as the challenges that companies would face from a regulatory standpoint.
Our September 2018 article on Seeking Alpha, Why The Road For CBD-Infused Beverages May Be Longer & Harder Than Investors Anticipate articulated our view that investors had gotten too far ahead of themselves, regarding their expectations for both the CBD beverage market and the company's potential for entry into this newly minted market.
Subsequently, we began shorting call options at around the $9.50 to $9.90 price area, expecting that all the rampant hyperbole that was taking place across the Internet would eventually wear thin.
Aside from the overly optimistic view of New Age by investors, the single biggest reason why we had serious doubts about NBEV's future was directly related to the company's CEO, Brent Willis.
After the announcement that Mr. Willis had been named the CEO of New Age's predecessor company, American Brewing Company, we started the process of performing copious due diligence and research on Mr. Willis's professional background.
We immediately began to question the chances of NBEV's success under a CEO who had a history of very poor decision-making and an unfortunate trail of failures at various other CEO positions, including Cott Beverage Corporation (COT).
Prior to Cott, Mr. Willis held various executive and senior management positions at other CPG companies, which include Kraft Heinz (KHC), The Coca-Cola Company (KO) and AB InBev (BUD).
In May 2006, Cott's board pushed out its CEO, John Sheppard, who had built EBITDA to roughly $200 million through acquisitions and a focus on efficient manufacturing, and brought in a new CEO, Brent Willis, to execute the new plan. From then until March 2008 when Willis departed, Cott's stock dropped from $15 to $2 per share, wiping out nearly $1 billion of equity value. Today, it trades at around $1.00 per share, less than tangible book value.

Source: Seeking Alpha
We also didn't care for the lucrative package that Mr. Willis walked away with from Cott after being fired from the company as CEO.
After the Cott debacle, Mr. Willis attempted to navigate his way through the business of leading a company named ECIG. He was unsuccessful and the company eventually filed for Chapter 11 Bankruptcy.
Regarding the ECIG venture:
O'Neill's appointment followed the resignation of company founder and CEO Brent Willis and the $41 million infusion of new cash from private investors.
In 2014, Willis took the company public, raising about $150 million in a stock offering that it used to acquire three competitors: FIN Electronic Cigarette Corp. of Atlanta, and two United Kingdom-based companies, Vapestick Holdings Ltd. and Must Have Ltd.
Since its public offering, ECIG's stock has fallen from an adjusted price of $252 per share to penny stock status as the company entered private debt placements that have diluted the value of its common stock.
In March, the company staged a 1-for-15 stock split after its stock fell below 10 cents per share. Since then, the company's stock has continued falling. The stock closed at 40 cents per share in trading on Monday, Aug. 10."
Source: mLIVEWe
We would point out that from January of 2019 to the time of his resignation from New Age, in January of 2022, NewAge Inc.'s share price declined a whopping 81%.
We are strong believers in Carl Icahn's view of the important role of a CEO: "The CEO is, by far, the most important decision for a company… The company is going to rise and fall with the CEO."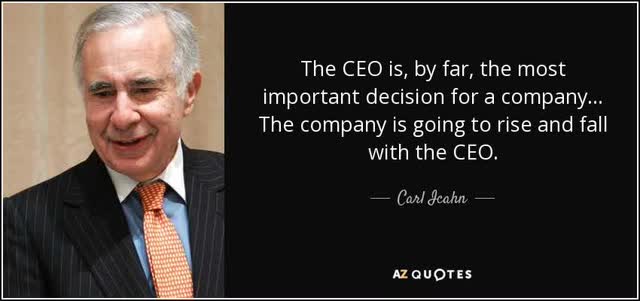 Back in 2016, we held a very large position in the shares of beverage-maker Celsius Holdings, Inc. (CELH). We had gotten to know both the CEO, Gerry David as well as the CFO, John Fieldly through numerous conversations with them.
We had a great deal of respect and confidence in Gerry David, since his business background included successfully turning around several struggling companies.
There was such a huge dichotomy between Mr. David and Mr. Willis that we decided to write a blog article comparing the two men in their respective roles as Chief Executive Officers of publicly-traded companies.
With the announced departure of Brent Willis from the C-suite at NBEV, we anticipated a breath of new life for New Age, Inc. and once again placed the company's shares on our watchlist.
Given the lack of confidence that we had for Mr. Willis, at the helm of the company, our feeling is that a dark cloud has been lifted from New Age, Inc. and that NBEV will be a much different company going forward.
Two Catalysts That Provide Optimism For Investors
Two other events have also contributed to our optimism for NBEV.
The first is the purchase of 500,000 shares at a price of $1.21 by Chairman of The Board and Interim CEO, John Brennan, on November 21, 2021.
We view this large investment, of over $600,000, as a vote of confidence by the Interim CEO that there is inherent value in New Age, Inc.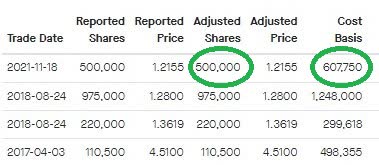 The second is the announcement on June 8, 2022, that under Mr. Brennan's direction New Age, Inc. has hired external consultants to assist the company with the evaluation of strategic alternatives to maximize shareholder value.
New Age, Inc., (NBEV), the Utah-based direct-to-consumer (D2C) organic and healthy products company, today announced that its Board of Directors has initiated a process to evaluate potential strategic alternatives to maximize shareholder value. As part of the process, the Board will consider a full range of strategic alternatives including available financing alternatives, a potential financial restructuring or a reorganization, merger, sale or other strategic transaction.

Ed Brennan, New Age's Chairman and interim Chief Executive Officer, commented, "Following a detailed evaluation over the past several months, we have determined that it is prudent to undertake a review of our strategic options to determine which alternative or alternatives, including our standalone plans, are in fact the best way to maximize shareholder value.

Source: Yahoo Finance
Having a CEO, who believes so strongly in a company, that he is willing to invest the sizable amount of money that Mr. Brennan has, tells investors that he has major skin in the game and is financially motivated to get the stock price higher over time.
The Company's Business Fundamentals
While all the above is certainly good news, a business has a value and that value is based on a number of fundamental metrics, such as price-to-sales ratio, P/E ratio, cash flows, the balance sheet, debt obligations and book value to name a few.
As an investor, you want to buy the steak, not just the sizzle.
Looking at the fundamentals for New Age, Inc., the first thing that caught our eye was that the company is delinquent in its obligations for both their 10-K Annual Report and their most recent 10-Q quarterly report for the period ending March 31, 2022.
The company is out of compliance with the NASDAQ reporting rule.
According to the company, they have filed a plan with NASDAQ to regain compliance with respect to the delinquent Form 10-K and the delinquent Form 10-Q. There has been no update as to whether the company, has in fact, filed their plan for review with regulators, or the status of the plan.
Since all we have to work with are the numbers from the most recent 10-Q filed on November 9, 2021, for the period ending September 30, 2021, we are forced to use what is publicly available to produce the charts below.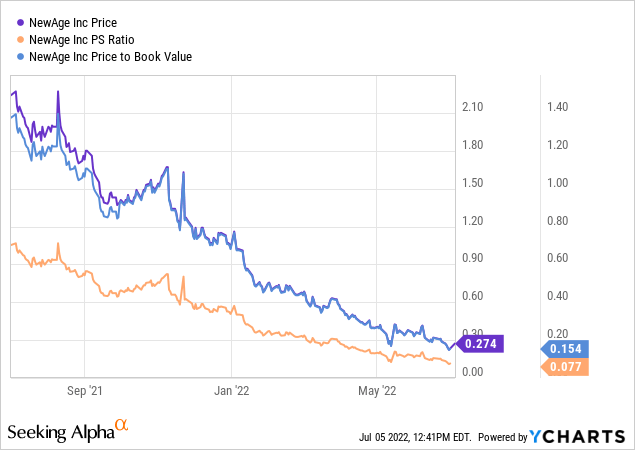 New Age carries a price-to-sales ratio of 0.077 compared to an industry average of 4.22
The latest price-to-book ratio at 0.154 is also very low compared with others in the industry at an average P/B of 7.87.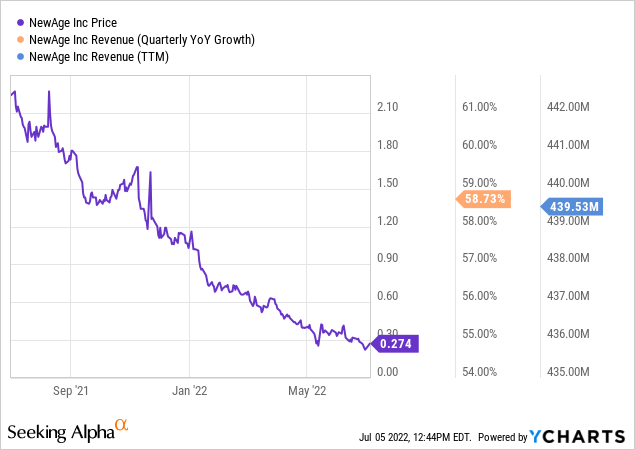 Other metrics, as of the latest quarterly filing, show that the company has total assets of $405.6 million compared against total liabilities of $183.5 million, representing a current ratio of 2.21.
The company had cash and cash equivalents of $46.8 million in the third quarter of 2021, compared to $43.7 in the third quarter of 2020.
Net cash used in operating activities for the nine months ending in 2021 was ($25.6) million versus ($29.8) million for the same nine month period in 2020.
It appears that the company has adequate cash to continue without the need to raise capital in the immediate future.
The three months ending September 30, 2021 the loss was ($0.02) per share versus a loss of ($0.14) per share in Q3 of 2020.
For the nine months ending September 30, 2021 the loss per share came to ($0.02) compared against a loss of ($0.38) in 2020.
We would caution anyone considering an investment in NBEV to carefully weigh the risks versus the rewards of making a capital commitment, at this time, especially given the limited publicly available information resulting from the company's failure to file its most recent 10-K and 10-Q financial statements.
New Age has a current market cap of only $34.3 million and is a micro-cap stock, as well as a penny stock by definition.
Micro-cap stocks carry additional risks beyond those of higher classes of securities including, but not limited to trading outside of a listed exchange, potential liquidity issues, dealing with penny-stock rules, lack of margin eligibility, a possible absence of transparency regarding BBBO quotes, a limited number of Market Makers willing to provide depth to the order book, potential issues regarding financing activities, inadequate capital to execute on the company's business plan, going concern caveats, and the potential inability to compete with larger companies due to limited financial and personnel resources. Please invest responsibly. We encourage individuals to only invest what they can afford to lose, up to a maximum of 100% of their investment.
It's hard to imagine that, with almost $440 million in sales on a trailing twelve-month basis, and quarterly Y-O-Y (year-over-year) revenue growth of 58.73%, there isn't value to be found somewhere in this enterprise.
A Deteriorating Technical Picture
The technical picture for New Age doesn't look much better.
The stock has been in a downtrend for quite a while and the chart for NBEV shares shows just how few believe in the company.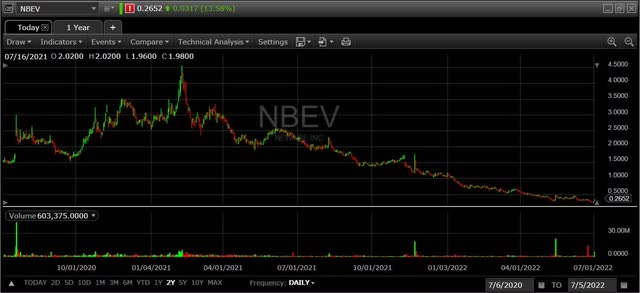 We tend to be contrarians and are always looking for stocks that fall out of favor with investors.
Just last week, when we began writing this article, we began nibbling at the shares of NBEV.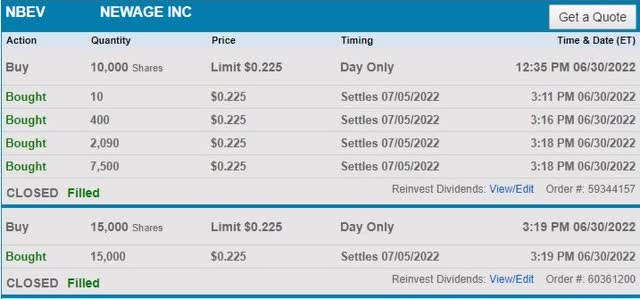 Our goal, as with most of our micro-cap ideas, is to slowly accumulate a sizable position, and wait for the rest of Wall Street to discover what we have already found.
This morning, we woke up to find that pre-market, the shares of NBEV had risen over 30%. At one point, in the pre-market session, a trade of almost 250,000 shares took place at a price of $0.3326 and $0.37 cents.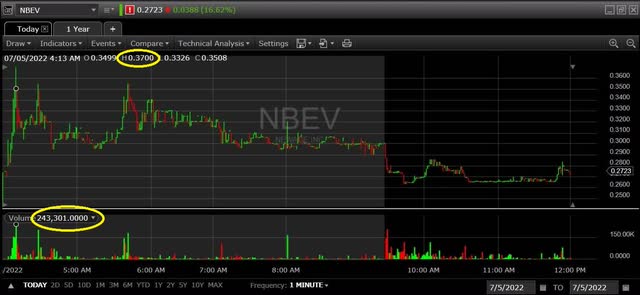 Generally, when there is a sudden rush to pile into shares of a company at a substantial price above where it closed the prior day, it gets our attention.
New Age closed on Friday, July 1, at $0.2335. Why, suddenly, would the shares start fetching $0.37 cents, or a 58% premium?
Obviously, with a fair amount of the shares being short, we can likely attribute part of the rush into NBEV as short-covering.
However, we find that most investors don't pay much attention to extended hours trading. Part of this rests in the fact that liquidity is severely diminished in both pre-market and after-hours activity.
That being said, someone appears to have a very good reason to buy shares of NBEV at a 58% premium. We won't speculate as to why, and it really doesn't matter, since the price and volume tells us everything we need to know.
It doesn't look like we are going to get our open order to purchase 100,000 shares at a limit price of $0.20 cents anytime soon.

We will, however, add to our position on any pullbacks in price. After all, if a $600,000 plus investment at $1.21 a share is good enough for NBEV's Interim CEO and Chairman of The Board, it's good enough for us.
Besides, at this valuation, we don't see much downside in the shares.